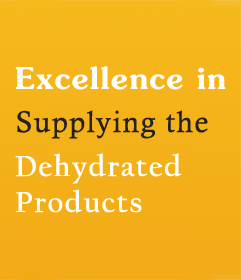 To be the most successful and respected Dehydrated Onion Company in all around the world fully attainment of quality core products and customer satisfaction through specialized skill made products. To have a long term relationship with buyers/customers with providing desired quality.

To become dynamic leader in the foods industries. Our company's purpose is to grow market vegetables using organic, sustainable farming practices to give people safe and healthy food choices.
Totally focus on the changing of the need of the customer by getting more innovations in the field of Foods Industries.
Our motto is
: Together, we believe that the best in each of us enriches all of us. We view ourselves as partners with our customers, our employees, our community and our environment.
"YOUR EXPECTATION IS OUR BUSINESS COMMITMENT."
"QUALITY AND CUSTOMER SATISFACTION IS OUR ETHICS."
Product Range