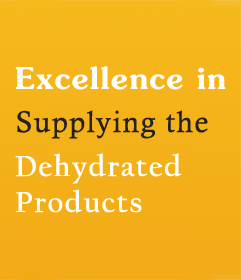 Dehydrated Onion Products
Dehydrated White Onion Kibbled

Dehydrated White Onion Chopped

Dehydrated White Onion Minced

Dehydrated White Onion Granules

Dehydrated White Onion Powder

Specification

• Pure and hygienic
• Excellent taste
• Top quality
• Fresh
• Rich in aroma
• Perfect packaging

Dehydrated Red Onion Kibbled

Dehydrated Red Onion Powder
Dehydrated Onion Kibbled
Used in varied food preparations wherever alongwith onion flavor & taste, onion's appearance & texture is desired and can be easily used in salads & other preparations / servings after re-dehydration.
Dehydrated Onion Chopped
Ethnic food preparations/ sauces specialty, canned, dry or frozen vegetable mixes, dry casserole mixes, dry soups mixes, stuffing mixes, food service & fast foods.
Dehydrated Onion Minced
Soups, sauces, canned / dry / frozen food, salad dressings, meat products, other food products wherever onion flavour & taste desired'. Ideal for repacking for retail stores.
Dehydrated Onion Granules
Gravies, sauces, seasonings, cheeses, crackers, vegetable & meat preparations etc. Ideal for retail packs suitable for metering devices.
Dehydrated Onion Powder
This is mostly used in the preparation of delicious foods, pizzas, pickled products, seasonings and sea products amongst others.
Descriptions
Kibbled / Flakes, Minced, Chopped, Granules and Powder are processed from dried onion (Allium Cepa). It shall be the true vegetable substance from which no portion of its volatile constituents have beeen exhausted. It shall be free from artificial coloring, adulterants and impurities. The product is prepared, processed, and packaged under modern sanitary conditions in accordance with good manufacturing paractices. Impurities / Foreign matters product is cleaned by COLOUR SHORTEX MACHINE auto rejection ferrous and non-ferrous metal detector totally free the product from metal.